Driftwoods
(Click the section below to learn more)
Driftwood
"Driftwood" a bay stallion was foaled in 1932. His sire "Miller Boy" by "Hobart Horse" who was thought to be sired by "John Wilkins" by "Peter McCue." "Miller Boy" was out of "Wilie" a daughter of "Texas Chief." "Driftwoods" dam was "The Comer Mare" by "Barlow" by "Lock's Rondo." The combination of early speed sent the young stallion to the race track where he was successfully matched at distances from 220 yards to 3/8's of a mile. In the late 1930's he ended up in the hands of the Nichols' family at Gilbert, Arizona. While he was with the Nichols' he was matched against, and outran, the legendary "Clabber" a World's Champion Quarter Running Horse.
Buck Nichols introduced "Driftwood" to the roping arena and rodeoed on the horse. In 1941 Asbury Schell had him and nicknamed him "Speedy" cause of the way he could catch cattle over a long roping score. Speedy, as he was called by ropers, was a great rope horse and was used in team roping , calf roping, steer tripping and bulldogging all in the same day. As a nine year old "Driftwood" became a fixture at the big rodeos around the country. In 1943 Katy & Channing Peake bought "Driftwood" from Schell for $1,500 and moved him to Rancho Jabali where they registered him with the AQHA and was retired to stud.
Driftwood stood anywhere from 14.3 to 15 hands and showed adequate bone and foot size. Driftwood was a very well balanced individual and showed an alertness that is still evident in his progeny. He was an extremely fast horse and devoured ducking and diving calves. He was a tough horse and his sturdiness was shown in his years of racing and traveling on the rodeo circuit.
"Driftwoods" ability to sire quick speed, performance ability, the mental attitude to retain training, functional conformation and physical stamina to stand up under hard use, and carry the traits on down through the generations, is what made "Driftwood" unique among stallions. Many stallions are out standing performers themselves but are not able to pass that same talent on down through the generations. "Driftwood" did. They are known to be very trainable and excellent at any event they were asked to perform in. Driftwood has had winners in virtually every event possible including barrel racing, reining, working cow horse, roping, cutting and western riding. They are known to be graceful movers and are very cowy. They are also known to be huge stoppers.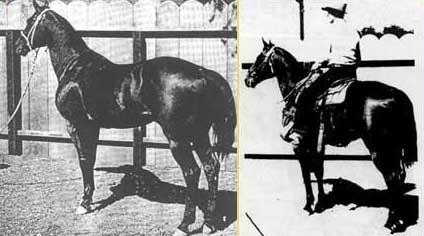 Barrel racers are finding the Driftwoods make excellent barrel horses. They have a natural rate to them and have a quick start out of the barrel. They are easy to train and can handle the pressures of training. Great barrel horse that carry Driftwood blood include French Flash Hawk aka Bozo who was a 4 time PRCA barrel racing horse of the year and Firewater Fiesta who is a 1 time PRCA barrel racing horse of the year.
During the following seventeen years, "Driftwood" sired a whole arena full of top performers in the show ring, the race track, and the rodeo arena. For over a half a century a bay stallion has passed down his own tremendous performance ability and, in the process given horsemen something that they were proud to ride. An old rodeo adage is, "A man has to be well mounted to win" and with a "Driftwood" he was. Today, sixty plus years after he was foaled, his blood is still sought after by cowboys. "Driftwood" died on October, 20 1960. He left many great son's and daughter's of his such as "Hallie Wood", "Woodwind", "Henny Penny Peake", "Brown Beulah", "Wood Wasp", "Drifty", "Woodfern", "Miss Linwood", "O See O", "Judy Sue", "Annie Wood", "Kitty Wood", "Rosewood", "Drifting Sage", "Easy Keeper", "Chelena", "Maestro", "Speedy II", "Poker Chip", "Speedy Wood", "Speedy Peake", and "Driftwood Ike", as well as a herd of others.
Driftwood Bloodlines
The greatest cross on Driftwood seemed to be a mare named Sage Hen. This great mare produced Driftwood's greatest performers including Poker Chip Peake who is considered to be the greatest calf roping horse of all time. He was a good looking gray and could really stop. Sage Hen also produced Henny Penny Peake (Hackamore champion), Red Button (famous rodeo gelding), Drifting Sage (rope horse and great sire). Drifting Sage produced Blanton Wood (by Kitty Blanton by Lucky Blanton). Blanton Wood is the sire to Blantons O Too Cool. Sage Hen was by Wagonner and proved to be the greatest cross on Driftwood. Wagonner mares crossed excellent on Driftwood.
Another great cross was Hancock Belle. She was by Buck by Chicaro and by a Hancock mare. This cross produced Driftwood Ike who was also a top rope horse and later a sire. Ike sired Orphan Drift, Wayward Ike, White Lightning Ike and Lone Drifter and other great sires. Driftwood Ike mares produced excellent individuals such as Sunfrost and Bucko Jack. Bucko Jack was cutting winner before being sidelined with an injury. Bucko Jack is the sire of Jumpin Jack Solano. Hancock Belle was also the dam of Chilena. Chilena was also a great arena performer when mares were rarely ridden in the arena. Chilena was a great roping horse and her blood is prized by Driftwood breeders. It is fabled that Chilena outran every race horse in Arizona and California during her time. She produced Frostena who was an AQHA Superior Heading Horse. Frostena is the dam of Frostys War Chief. Frostys War Chief also carries Driftwood on his top side through Brown Beulah, his granddam.
Driftwood Ike
Is the most famous son of Driftwood. 100% foundation. Great calf roping, team roping, and barrel racing horse, he has also sired some great performers. Gill Cattle Company, before downsizing, was the leading producer of PRCA horses in the world and the sire they used extensively is an own son of Driftwood Ike. They are super cowy with great rate ability and wonderful dispositions. They can take a lot of pressure.
Driftwood Ike won calf and team roping points, earning his open performance ROM in 1960 and second high point steer roping horse in 1969. He won a total of 54 AQHA Performance points in roping events.
"Driftwood Ike" nicknamed "Ike" was born in 1954 and was probably the most famous son of "Driftwood". "Ike's" dam was "Hancock Belle" by "Buck" and "Miss Hancock" who was a daughter of "Joe Hancock". At the age of three, Walt Nichols took "Ike" to the Prescott RCA Rodeo and placed in both goes and won the average. "Ike" was also trained to run barrels when he was four years old. "Ike" was in the money every time except one time in 1962 when he knocked a barrel down at the Prescott Rodeo. At Tucson, Arizona in 1956 or 57 another horse tied "Ike" in the barrel race for first place, so they had a run off to break the tie. The second run they tied again, so they ran a third time and "Ike" ran 3/10 faster than his first time and the other horse that was a little hot blooded ran off and through the back fence on its third try.
In the 1970's and 80's "Driftwood Ike" foals were the rodeo cowboys dream. The National Finals team roping and calf roping would have 18 to 21 of the contestants riding a horse with "Driftwood" blood in it. "Lone Drifter", "Wayward Ike", "White Lightning Ike", & "Tuffy Ike" are the only four sons of "Driftwood Ike" still alive today and they all are in their 20's. Other great sons were "Orphan Drift", and "Ikes Last".
Pro's who ride Driftwoods
Clay O'Brien Cooper – PRCA Hall of Fame member, has won 7 World Champion Team Roping titles, has won over $2,134,000 roping and has qualified for the WNFR 22 times. His horse Supai Drifter (nicknamed Ike) finished second in the PRCA/AQHA Team Roping Heel Horse of the Year race in 2004.
Wade Wheatley – Qualified (heading) for the NFR 2000-2002 on a Driftwood gelding. Has qualified for the WNFR 6 times and has won over $779,000 heading.
Kristie Peterson – Four-time world champion and three-time reserve world champion WPRA barrel racer. Her horse Bozo (French Flash Hawk) who carried her to those titles has won AQHA Barrel horse of the year 5 times. He is a great grandson of Driftwood Ike.
Todd Suhn – Has qualified for the WNFR 10 times and won over $1,100,000 as a steer wrestler.
Mike Beers – World Champion Heeler, (Won the world on a full brother to White Lighting Ike) has won over $1,800,000 and qualified for the WNFR 20 times.
Reg Camarillo – (many time NFR qualifier in Team Roping)
Allen Bach – (many time World Champion Heeler)
Tom Fergusen – (6 time All-Around World Champion)
Cory Petska – Has won over $533,000 heeling, he has qualified for the WNFR 4 times. In 2006 he placed in 5 out of 10 rounds at the WNFR. In 2005 he and partner Tee Woolman won the average at the WNFR placing in 7 out of 10 rounds and finished as World Champion Runner-Up
Joe Reed
(Click the tabs to learn more)
We feel that the Joe Reed horses are a unique package of speed, heart, easy trainability, and kind dispositions. Several years ago research showed that every world champion in every category of the quarter horse breed had Joe Reed in its pedigree. It included race, halter, cutting, and all performance events—quite an achievement! Another interesting factor of the Joe Reed horses is they line breed so well that it has been easier to maintain the concentration of blood. Often in line-breeding defects show up, but not so in these horses. We have included the Joe Reeds in our breeding program for these reasons and because of the successful crossing of Driftwood with Joe Reed bloodlines. This was the cross that produced the legendary Orphan Drift. He was a tremendous performer himself and sired many outstanding performance horses and broodmares. We see no reason to reinvent the wheel when we know the cross works so well.
Joe Reed P-3 was a great race horse with unbelievable heart. In the June 1948 issue of "The Quarter Horse", House was quoted: "I never saw Joe start with a bunch of horses that he didn't get right out in front and leave them on the jump. He had so much power when he started that he would spread his plates. He nearly crippled himself in this manner, and we were finally forced to shoe him with a bar across the heel."
Joe Reed II has a legendary disposition. He wasn't broke until he was 5 and yet owner Bert Wood remembers Joe Reed as a big pet. He said, "He helped to raise our kids, and he sure as heck taught them to ride. They used to climb on the fence and then ease on to Joe's back. He just stood there. That horse was something special." He won his world championship with absolutely no race training—had never seen a starting gate or run on a straightaway—and with a crippled foot. "That horse was a combination of two things—tremendous speed and tremendous heart."
Leo was a result of mating Joe Reed II to his sister. He is the greatest broodmare sire in the breed. His daughters produced seven supreme champions, illustrating the versatility of what the bloodline does. (To be a supreme champion they have to run AAA three times and have numerous championships in halter, cutting, roping, and western pleasure.) No other sire's daughters have ever come close to equaling that record.
Joak was also one of Joe Reed II's greatest sons, achieving his AAA. He was also a great broodmare sire; his daughters placed him on the leading sire list for ROM racing.
Other Bloodlines
(Click names in green, to view stallion flier)
Buzz Bar – Top AAA son of Three Bars that produced halter and performance champions as well as a Supreme Champion.
Cee Booger Red – Well muscled with a lot of speed. Large numbers of his colts are currently being ridden in the PRCA as calf roping and team roping horses. His colts have very good dispositions. They can take a lot of pressure. Joe Beaver (Calf Roper) rode Cee Booger Red sons at the NFR.
Drifts Vaquero – Orphan Drift Son that has produced outstanding using horses. His colts have very good size, are excellent travelers, and have lots of speed.
Goodbye Sam – AQHA Supreme Champion. AAA, Champion Halter, Superior Cutting, and pts in Pleasure.
Harlan – is 100% Foundation bred. Harlan horses are known for their "fast starts" and "hard stops." Harlan has been on many leading sire lists. He has sired many winners in performance and halter classes. Harlan was out of a Mayflower daughter, by Hank H.
Harlander – 100% Foundation. Legendary for producing famous roping and using horses in the Midwest.
Ikes Last – Son of Driftwood Ike. Only had a few a colts, but his daughters are legendary producers. His daughters were big producers for George Strait's herd as well as Mel Potter and Ron Kester.
Lonsum Tiger – 1979 Reserve World Champion Cutting Horse. He is a grandson of Leo and possessed great athletic ability. Click HERE for his stallion flier.
Oklahoma Truckle – Grandson of Leo. Great ranch horse producer. His brother set the world record for the 440. Click HERE for a stallion flier.
Partee Doc – Famous Texas cutting horse and show horse that stood for high prices. He was supposed to be the best dispositioned Doc Bar son.
Sugar Bars – Top AAA Supreme Champion Sire. Great halter and performance horse. He wrote the record books.
Top Moon – $3,000 stud fee 25 years ago. AAA. Famous driftwood crosses. Very fast horse, sired a lot of good ranch horses.
Two Eyed Jack – Legendary producer of AQHA Champions in many areas.